Posts for tag: tmj disorders
By New Hope Cosmetic and Family Dentistry
July 27, 2019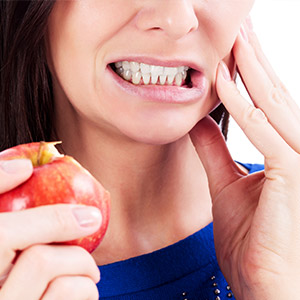 Because it requires jaw movement, eating can be difficult and painful if you have a temporomandibular joint disorder (TMD). During flareups you may switch to foods that are easier to eat but may be less nutritious than those you're giving up.
But there are ways to keep healthier foods in your diet while minimizing TMD discomfort. In many cases, it's a matter of preparing your food differently. Here are a variety of food groups known for their nutritional value and what you can do to prepare them for easier eating with TMD.
Fruits and Vegetables. You should peel any fruits or vegetables with hard or chewy skin like apples, peaches or cucumbers. Try chopping or pureeing fruits and vegetables you can eat raw to reduce their size and make them easier to chew. Vegetables like carrots, potatoes, broccoli or cauliflower can be cooked, then chopped or mashed.
Legumes and nuts. Pod-based vegetables like beans or peas provide a number of nutritional elements, as do nuts with their healthy fats. Your motto with these foods should be "Not too large and not too hard." Be sure then to cook, mash or puree legumes that are larger than a pea. With nuts, try nut butters for a softer serving than eating them out of the shell.
Protein and Dairy. Any meats like poultry or beef should be cut into bite-sized pieces; you can also moisten them with broths, gravies or sauces for easier chewing, or braise or stew them in liquid to tenderize them. You can also consume most milk, yogurt or cheese products you can tolerate. If you can't, try alternatives like meal replacement or whey protein beverages.
Grains. Prepare grains by cooking them until they're softened. Hot cereals like oatmeal offer a lot of nutrition and they're relatively easy to eat. Toast your bread and cut the slice into smaller pieces to minimize jaw movement.
One last tip: take your time while eating. A slower rate not only helps you enjoy your food more, it reduces the amount of work your jaws perform while eating. Less jaw work can help further ease the discomfort of TMD.
If you would like more information on how to relieve TMD pain and dysfunction, please contact us or schedule an appointment for a consultation. You can also learn more about this topic by reading the Dear Doctor magazine article "What to Eat When TMJ Pain Flares Up."
By New Hope Cosmetic and Family Dentistry
July 17, 2019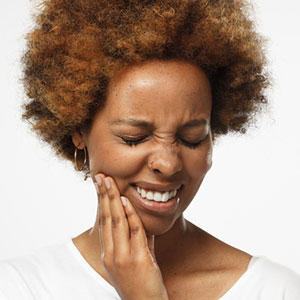 If you have chronic jaw pain, you may be one of an estimated 10 million Americans suffering from temporomandibular joint disorders (TMD). If so, it's quite possible you're also coping with other health conditions.
TMD is an umbrella term for disorders affecting the temporomandibular (jaw) joints, muscles and adjoining tissues. The most common symptoms are limited jaw function and severe pain. Determining the causes for these disorders can be difficult, but trauma, bite or dental problems, stress and teeth clenching habits seem to be the top factors. Women of childbearing age are most susceptible to these disorders.
In recent years we've also learned that many people with TMD also experience other conditions. In a recent survey of TMD patients, two-thirds reported having three or more other health conditions, the most frequent being fibromyalgia, chronic fatigue syndrome, rheumatoid arthritis or chronic headaches. Researchers are actively exploring if any systemic connections exist between TMD and these other conditions, and how these connections might affect treatment changes and advances for all of them including TMD.
In the meantime, there remain two basic approaches for treating TMD symptoms. The most aggressive and invasive approach is to surgically correct perceived defects in the jaw structure. Unfortunately, the results from this approach have been mixed in their effectiveness, with some patients even reporting worse symptoms afterward.
The more conservative approach is to treat TMD orthopedically, like other joint problems. These less invasive techniques include the use of moist heat or ice to reduce swelling, physical therapy and medication to relieve pain or reduce muscle spasming. Patients are also encouraged to adopt softer diets with foods that are easier to chew. And dentists can also provide custom-fitted bite guards to help ease the stress on the joints and muscles as well as reduce any teeth grinding habits.
As we learn more about TMD and its relationship to other health conditions, we hope to improve diagnosis and treatment. Until then, most dentists and physicians recommend TMD patients try the more conservative treatments first, and only consider surgery if this proves unsatisfactory. It may take some trial and error, but there are ways now to ease the discomfort of TMD.
If you would like more information on the causes and treatments of TMD, please contact us or schedule an appointment for a consultation. You can also learn more about this topic by reading the Dear Doctor magazine article "Chronic Jaw Pain and Associated Conditions."
A blow to the face can result in a variety of injuries to your jaws and the temporomandibular joints (TMJs) that join the lower jaw to the skull. Only a thorough examination can determine the type and extent of the injury, and how to treat it.
The pain you feel in your jaw may indicate a direct injury, usually near the joint. This could mean the joint head (condyle) has dislocated, or moved out of the joint space. It could also mean you've fractured your lower jaw, most commonly just below the head of the joint.
Jaw pain can also indicate structures near the jaw and joint have been damaged and the jaw is indirectly affected. In some cases a damaged tooth may be radiating pain signals through the jaw (along similar nerve paths). More likely, trauma to soft tissue near the jaw joint has swelled with inflammation, putting pressure on the joint and temporarily stopping the condyle from seating fully in the joint space.
Any of these injuries can also cause painful muscle spasms, a defensive reaction from the body that causes muscles on either side of the jaw to limit movement preventing further damage (a natural splint, if you will). Thus, the pain may be compounded by a diminished range of motion when you try to chew or speak.
It's important, therefore, to determine the exact cause of pain and limited movement before commencing treatment. Spasms and inflammation are usually treated with muscle relaxant drugs and anti-inflammatory pain relievers. In the case of a dislocation, gentle manipulation can ease the condyle back into the joint space. A fracture would require more extensive treatment, including repositioning broken bone and immobilizing the jaw from movement to allow healing. In the most severe cases, surgical treatment may be necessary to internally immobilize the joint.
If you sustain an injury that results in jaw swelling and pain, you should see us without delay. The sooner we can diagnose and begin the proper treatment for your injury, the less likely you'll encounter long-term problems and the sooner you'll be pain and swelling free.
If you would like more information on the causes and treatment of jaw pain, please contact us or schedule an appointment for a consultation. You can also learn more about this topic by reading the Dear Doctor magazine article "Jaw Pain."