Posts for tag: gum recession
By New Hope Cosmetic and Family Dentistry
April 27, 2021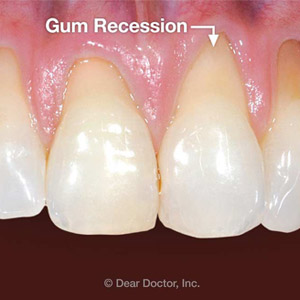 If it seems like your teeth are getting longer as you get older, it's unlikely they're magically growing. More likely, your gums are shrinking or receding from your teeth. Besides the negative effect on your appearance, gum recession exposes you and vulnerable tooth areas to harmful bacteria and painful sensitivity.
Although common among older adults, gum recession isn't necessarily a part of aging: It's primarily caused by periodontal (gum) disease, in which infected gum tissues can weaken and detach from the teeth. This, along with bone loss, leads to recession.
But gum disease isn't the only cause—ironically, brushing your teeth to prevent dental disease can also contribute to recession. By brushing too aggressively or too often (more than twice a day), you could eventually damage the gums and cause them to recede. Tobacco use and oral piercings can also lead to weakened or damaged gums susceptible to recession.
You can lower your risk of gum recession by abstaining from unhealthy habits and proper oral hygiene to prevent gum disease. For the latter, your primary defense is gentle but thorough brushing and flossing every day to remove harmful dental plaque. You should also see your dentist at least twice a year for professional dental cleanings and checkups.
If, however, you do experience gum recession, there are a number of ways to restore your gums or at least minimize the recession. To start with, we must treat any gum disease present by thoroughly removing all plaque and tartar (calcified plaque), which fuels the infection. This reduces inflammation and allows the gums to heal.
With mild recession, the gums may rejuvenate enough tissue to recover the teeth during healing. If not, we may be able to treat exposed areas with a tooth-colored material that protects the surface, relieves discomfort and improves appearance.
If the recession is more advanced, we may still be able to stimulate gum regeneration by attaching a tissue graft with a micro-surgical procedure. These types of periodontal surgeries, however, can require a high degree of technical and artistic skill for best results.
In any event, the sooner we detect gum disease or recession, the quicker we can act to minimize the damage. Doing so will ensure your gums are healthy enough to protect your teeth and preserve your smile.
If you would like more information on gum recession, please contact us or schedule an appointment for a consultation. You can also learn more about this topic by reading the Dear Doctor magazine article "Gum Recession."
By New Hope Cosmetic and Family Dentistry
December 04, 2019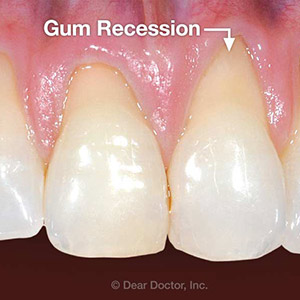 Your gums play an important role in dental function and health. Not only do they help anchor teeth in the jaw, the gums also protect tooth roots from disease.
But you can lose that protective covering if your gums recede or shrink back from the teeth. An exposed tooth is more susceptible to decay, and more sensitive to temperature and pressure.
Here are 4 causes for gum recession and what you can do about them.
Gum disease. The most common cause for gum recession is a bacterial infection called periodontal (gum) disease that most often arises from plaque, a thin film of bacteria and food particles accumulating on teeth. Gum disease in turn weakens the gums causes them to recede. You can reduce your risk for a gum infection through daily brushing and flossing to remove disease-causing plaque.
Genetics. The thickness of your gum tissues is a genetic trait you inherit from your parents. People born with thinner gums tend to be more susceptible to recession through toothbrush abrasion, wear or injury. If you have thinner tissues, you'll need to be diligent about oral hygiene and dental visits, and pay close attention to your gum health.
Tooth eruption. Teeth normally erupt from the center of a bony housing that protects the root. If a tooth erupts or moves outside of this housing, it can expose the root and cause little to no gum tissue around the tooth. Moving the tooth orthodontically to its proper position could help thicken gum tissue and make them more resistant to recession.
Aggressive hygiene. While hard scrubbing may work with other cleaning activities, it's the wrong approach for cleaning teeth. Too much force applied while brushing can eventually result in gum damage that leads to recession and tooth wear. So, "Easy does it": Let the gentle, mechanical action of the toothbrush bristles and toothpaste abrasives do the work of plaque removal.
While we can often repair gum recession through gum disease treatment or grafting surgery, it's much better to prevent it from happening. So, be sure you practice daily brushing and flossing with the proper technique to remove disease-causing plaque. And see your dentist regularly for cleanings and checkups to make sure your gums stay healthy.
If you would like more information on proper gum care, please contact us or schedule an appointment for a consultation. You can also learn more about this topic by reading the Dear Doctor magazine article "Gum Recession."