Posts for: October, 2017
By New Hope Cosmetic and Family Dentistry
October 29, 2017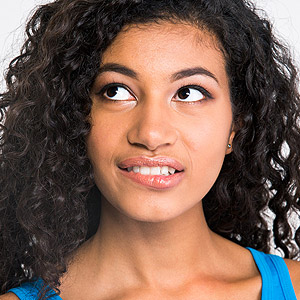 Biting the inside of your cheek is high on the list of minor but painfully irritating occurrences like paper cuts or tongue scalding from hot coffee. A mouth bite, though, has an additional tormenting feature — there's a good chance you'll bite the same spot again.
This kind of repeated mouth injury results in an enlargement of the soft tissue that has been traumatized. They're often diagnosed and referred to as a traumatic fibroma. When you bite your cheek, lips or tongue, you create a small wound that usually heals quickly. This healing process, though, can be interrupted if you bite the area again, which can then cause excess scar tissue to form.
The fibrous scar tissue, made up of a protein called collagen, is similar to a callous. You can often feel it with your tongue — a knot of tough skin that protrudes from the otherwise flat cheek wall. Because of this prominence, it tends to get in the "line of fire" during eating or biting, so you'll bite it again — and again. If this cycle continues, then even a more prominent scar tissue forms that you're more likely to bite again.
The wound will heal most of the time, unless you continually bite it. If it becomes a nagging problem, we can surgically remove the lump. After numbing the area with local anesthesia, we'll either use a laser or scalpel to remove it. The area is easy to fix and will flatten out the cheek surface. The entire procedure takes fifteen minutes or less and in a few days to a week you won't even notice it had been there.
While the vast majority of these lesions are harmless, it's still standard protocol to biopsy the removed tissue: a pathologist examines it under a microscope for cancer cells. This is a routine part of any medical practice and not a cause for alarm.
If you've had a lump for awhile that you always seem to be biting, see us for an examination. With a simple procedure, we may be able to remove that irritation once and for all.
If you would like more information on treating mouth lumps and other sores, please contact us or schedule an appointment for a consultation. You can also learn more about this topic by reading the Dear Doctor magazine article "Common Lumps and Bumps in the Mouth."
By New Hope Cosmetic and Family Dentistry
October 14, 2017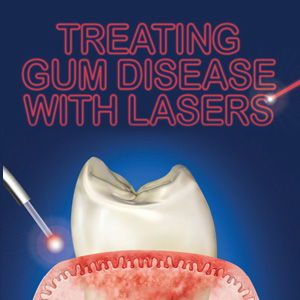 While lasers still seem like science fiction, they've been used commercially (and medically) for decades. But there's still room for growth in practical applications with this developing technology. One promising area is in the treatment of periodontal (gum) disease.
Gum disease is a bacterial infection triggered by plaque, a thin film of bacteria and food particles caused by inadequate oral hygiene. The disease is highly destructive and can eventually lead to both tooth and bone loss. Treatment procedures vary widely, but they all have the same goal: remove the offending plaque and calculus (tartar) from tooth and gum surfaces. Without plaque the infection subsides and the gums can heal.
For decades now, dentists have removed plaque and calculus manually with special hand instruments or ultrasonic equipment. If the disease has advanced below the gum line or formed deep voids filled with infection called periodontal pockets, the dentist may also employ surgical techniques to access the infected areas.
While all these techniques have a long track record for effectiveness, they can cause the inadvertent destruction of healthy tissue, as well as create discomfort for some patients afterward. This is where a new protocol called Laser Assisted New Attachment Procedure (LANAP®) may be able to make a difference in the future.
With the LANAP® protocol, surgeons direct a laser beam of light through a fiber optic the width of three human hairs onto diseased tissue. The particular color of light interacts with the tissue, which contains the darkly-pigmented bacteria causing the disease, and "vaporizes" it. The beam, however, passes harmlessly through lighter-pigmented healthy tissue; as a result diseased tissue is eradicated with little to no harm to adjacent healthy tissue.
With these capabilities, trained dentists using LANAP® for gum disease treatment might be able to achieve conventional results with less tissue removal and bleeding, less discomfort for patients, and less tissue shrinkage than traditional procedures — and without scalpels or sutures. And some post-surgical studies have indicated LANAP® might also encourage gum tissue regeneration in the months following.
LANAP®, however, is still developing and requires further research. Thus far, though, the results have been encouraging. As laser technology advances, it's quite possible tomorrow's patient may experience less discomfort and more effective healing with their gum disease treatment.
If you would like more information on gum disease treatment, please contact us or schedule an appointment for a consultation. You can also learn more about this topic by reading the Dear Doctor magazine article "Treating Gum Disease with Lasers."