Posts for: May, 2015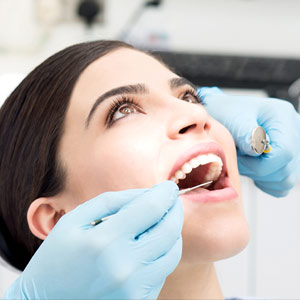 Dental cleanings are an important part of regular dental office visits. Performed by a dental hygienist or dentist, cleanings serve two purposes: to remove bacterial plaque and calculus (hardened deposits of plaque) from tooth surfaces missed during daily brushing and flossing; and to remove stains that can dull your smile.
There are different degrees of cleaning, including root planing that removes plaque and calculus deep below the gum line, usually for patients affected by periodontal (gum) disease. For patients in good oral health, the basic cleaning approach is known as prophylaxis, a term derived from the Greek for guarding or preventing beforehand. The techniques used in a prophylaxis remove both "coronal" (tooth surfaces visible above the gum line) plaque and staining, providing both therapeutic and cosmetic benefits.
A typical prophylaxis includes a procedure known as scaling. Hygienists use special instruments known as scalers to remove plaque and calculus by hand, or an ultrasonic device that vibrates plaque loose and is flushed away with water. The procedure removes that rough coating you often feel as you rub your tongue against your teeth, leaving the tooth surfaces feeling smooth.
Tooth polishing is a subsequent procedure to scaling that also removes plaque and surface stains. Polishing is carried out with a motorized instrument with a rubber cup in which a polishing (or "prophy") paste is contained. The hygienist moves the rapidly rotating cup filled with the paste over the tooth surface to remove plaque and stains. The end result is a highly smooth surface and a much shinier appearance.
People with dental insurance plans are often concerned tooth polishing may be viewed strictly as a cosmetic procedure, and thus not fully qualify for benefits. This should not be the case if coded properly: tooth polishing is part of the overall prophylaxis to remove plaque and staining. The primary purpose is therapeutic and preventive; the cosmetic effect is a by-product. Most dental plans will cover one or two prophylaxes (scaling and tooth polishing) a year, but there are variations so individuals should check their plans.
If you would like more information on dental cleaning, please contact us or schedule an appointment for a consultation. You can also learn more about this topic by reading the Dear Doctor magazine article "Tooth Polishing."
Professional basketball player Lamar Odom is sometimes known as "the candyman" because of his notorious fondness for sweets. But when his sweet tooth finally caught up with him — in the form of a mouthful of decayed teeth — the six-foot-ten-inch, 230-pound hoops star admitted that he had been avoiding treatment… because he was afraid of going to the dentist!
It took two Kardashians (Khloe and Kim) and a painful toothache to finally persuade Odom to sit in the chair. Once he did, it was found that he needed a root canal, a wisdom tooth extraction, and several fillings. Yet the fretful forward sailed through the whole set of procedures in a single visit, and walked out with a big smile afterward. How did his dentists make that happen?
Put it down to the "magic" of sedation dentistry. With anxiety-relieving medications that can be delivered orally (in pill form or by gas) or intravenously (into the bloodstream), the techniques of sedation dentistry can help even the most fearful patients get the dental care they need. That's good news for about 50 percent of the population, who admit they're at least somewhat afraid of the dentist — and even better for the 15 percent who avoid dental care completely due to their fear.
Dentists have a number of ways to ease apprehensive patients through a dental visit. An oral anti-anxiety drug can be given in pill form about an hour beforehand. Nitrous oxide (sometimes called "laughing gas"), which is administered by a mask placed over the mouth or nose, may also be used to relieve anxiety. The calming effects of these medications help make any nervousness melt away — and in many circumstances, mild sedation is all that's needed to ease the fear.
For lengthier or more complex procedures, intravenous (IV) sedation may be recommended. Unlike deeper (unconscious) sedation, IV sedation doesn't cause "sleep." Instead, it puts you in a comfortable semi-awake state, where you can still breathe on your own and respond to stimuli… but without feeling any anxiety. And when the procedure is over, you probably won't have any memory of it at all.
IV sedation can be administered by dentists who are specially trained and equipped with the proper safety equipment. While sedation is being provided, you will be monitored at all times by a dedicated staff member; when it's over, you will rest for a while as the medication quickly wears off. Then (as is the case with oral sedation), you'll need another person to give you a ride home.
Does sedation dentistry really work? Lamar Odom thinks so. "I feel so much better," he said when his 7-hour procedure was over. "I feel like I accomplished something."
If you would like more information about sedation dentistry, please contact us or schedule an appointment. You can learn more by reading the Dear Doctor magazine article "Oral Sedation Dentistry."