Posts for: February, 2015
The reason for extracting a tooth may be all too obvious — the tooth is too decayed or damaged to attempt saving. The reason for extracting a wisdom tooth, on the other hand, may not be so apparent: from the perspective of pain or reduced function, you may not notice a thing. Our recommendation to remove a wisdom tooth is based primarily on what may be occurring out of view below the gum line and its potential threat to adjacent teeth.
Teeth grow and develop below the gum line in the jaw, and then push their way through the gums as they appear in the mouth (eruption). After a normal eruption, the enamel-covered crown is visible above the gum line; the remaining tooth root (about two-thirds of the tooth's length) resides below the gum line. Because wisdom teeth, or third molars, erupt rather late between ages 17 and 25, they may lack the room to erupt properly due to crowding from other teeth that have already erupted. This can cause the wisdom tooth not to erupt fully through the gums, leaving the crown trapped below the gum line, a condition known as impaction. For the tooth, impaction increases the chances of infection, cyst formation and gum disease around it.
An impacted wisdom tooth can also cause problems for the adjacent teeth as well. The impacted tooth may begin to press against the roots of other teeth; the resulting pressure can damage the other roots, increasing the risk for disease or future tooth loss. A person may not even know they have this problem since there's often little to no noticeable pain or symptoms.
It may seem counterintuitive, but the best time to remove a wisdom tooth is when it's not causing immediate problems. There will be, however, signs found during examination (particularly x-rays or CT scan) that future problems are in the making. By extracting an impacted wisdom tooth at the appropriate time, we can avoid more serious problems in the future and improve oral health.
If you would like more information on wisdom teeth and your oral health, please contact us or schedule an appointment for a consultation. You can also learn more about this topic by reading the Dear Doctor magazine article "Removing Wisdom Teeth."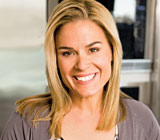 When asked about her dazzling white smile, Cat Cora, the first female iron chef on the hit television series Iron Chef America, freely admits to maintaining the brightness of her smile with professional whitening sessions.
"With what I do, whitening your teeth is like getting your hair done, your nails done and everything else you have to do to be on television," Cat recently told Dear Doctor magazine. However, she does have her limits. "I want my teeth to be white and healthy looking — but not stark white or looking like they could glow in the dark," she said with a laugh.
Cat's perceptions and experiences with tooth whitening may accurately describe Hollywood, but through the power of media, celebrities and their respective fan bases, having attractive white teeth has become a goal for most people. This is because white teeth are subconsciously associated with youth and virility.
Here in the dental office, we can use professional-strength "power bleaching" to whiten teeth several shades in a single visit. To prevent irritation to the area surrounding the teeth being treated, we isolate the gums and skin of the mouth with a protective gel or a rubber barrier known as a dental dam. After the whitening solution is placed on the teeth, the process may be supplemented by heat or a light source to activate or enhance peroxide release.
For bleaching teeth at home, our office can make custom-fitted bleaching trays that you fill with a gel form of carbamide peroxide. Sometimes this whitening gel can cause a temporary tooth sensitivity to hot and cold, but this normally lasts for no more than four days after you stop bleaching your teeth.
To learn more about tooth whitening, you can continue reading the Dear Doctor magazine article "Teeth Whitening." Or you can contact us today to schedule an appointment so that we can conduct a thorough examination and discuss what treatment options will be best for you. And to read the entire interview with Cat Cora, please see the article "Cat Cora."