Posts for: October, 2014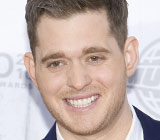 What happens if you're right in the middle of a song, in front of an arena full of fans… and you knock out a tooth with your microphone? If you're Michael Buble, you don't stop the show — you just keep right on singing.
The Canadian song stylist was recently performing at the Allphones Arena in Sydney, Australia, when an ill-timed encounter with the mike resulted in the loss of one of his teeth. But he didn't let on to his dental dilemma, and finished the concert without a pause. The next day, Buble revealed the injury to his fans on his Instagram page, with a picture of himself in the dentist's chair, and a note: "Don't worry, I'm at the dentist getting fixed up for my final show tonight."
Buble's not the only singer who has had a close encounter with a mike: Country chanteuse Taylor Swift and pop star Demi Lovato, among others, have injured their teeth on stage. Fortunately, contemporary dentistry can take care of problems like this quickly and painlessly. So when you've got to get back before the public eye, what's the best (and speediest) way to fix a chipped or broken tooth?
It depends on exactly what's wrong. If it's a small chip, cosmetic bonding might be the answer. Bonding uses special tooth-colored resins that mimic the natural shade and luster of your teeth. The whole procedure is done right here in the dental office, usually in just one visit. However, bonding isn't as long-lasting as some other tooth-restoration methods, and it can't fix large chips or breaks.
If a tooth's roots are intact, a crown (or cap) can be used to replace the entire visible part. The damaged tooth is fitted for a custom-fabricated replacement, which is usually made in a dental laboratory and then attached at a subsequent visit (though it can sometimes be fabricated with high-tech machinery right in the office).
If the roots aren't viable, you may have the option of a bridge or a dental implant. With a fixed bridge, the prosthetic tooth is supported by crowns that are placed on healthy teeth on either side of the gap. The bridge itself is a one-piece unit consisting of the replacement tooth plus the adjacent crowns.
In contrast, a high-tech dental implant is a replacement tooth that's supported not by your other teeth, but by a screw-like post of titanium metal, which is inserted into the jaw in a minor surgical procedure. Dental implants have the highest success rate of any tooth-replacement method (over 95 percent); they help preserve the quality of bone on the jaw; and they don't result in weakening the adjacent, healthy teeth — which makes implants the treatment of choice for many people.
So whether you're crooning for ten thousand adoring fans or just singing in the shower, there's no reason to let a broken tooth stop the show: Talk to us about your tooth-restoration options! If you would like additional information, please contact us or schedule an appointment for a consultation. You can learn more by reading the Dear Doctor magazine articles "Repairing Chipped Teeth" and "Dental Implants vs. Bridgework."
Question: What oral health issue do teenagers who wear orthodontic retainers and older folks who wear dentures have in common?
Answer: Both need to pay particular attention to cleaning their oral appliances.
The same goes for anyone who wears a nightguard to control tooth grinding, a mouthguard to protect teeth while playing sports, or a clear aligner for orthodontic treatment. Yet many people aren't sure how to properly clean their appliances — so here are a few handy tips:
DON'T:
Use toothpaste on your appliance — the ingredients in toothpaste, which are designed to polish the hard enamel of your teeth, are too abrasive for the soft plastic of oral appliances, and will cause scratches.
Boil your appliance, or use bleach to clean it — both will end up breaking down and destroying the appliance. Don't even use very hot water, as it can deform the plastic and make the appliance useless.
Leave your appliance out on the nightstand, or anywhere else — pets and small children have been known to find (and destroy) oral appliances left lying around. Instead, store it properly in its special case.
DO:
Use liquid dish detergent or hand soap to clean your appliance. A little mild soap plus warm water will do a great cleaning job. While you're at it, get a brush just for the appliance — because, while it's fine for plastic, you don't want to brush your teeth with soap!
Put a towel in the sink basin when you clean your appliance. Soapy appliances (especially dentures) can be slippery, and can be damaged by dropping — and that's an expensive mishap.
Consider investing in an ultrasonic cleaner. These inexpensive countertop devices are an excellent way to get the tiny ridges and crevices of your appliance really clean.
Whether you rely on dentures for everyday use, or just need to wear a retainer for a period of time, your oral appliance serves an important function. It may also represent a significant investment. That's why it's worthwhile to spend a few minutes each day giving these important items the care they need.
If you have questions about oral appliance care, please contact us or schedule an appointment.