Posts for: April, 2014
After her husband, producer Bruce Paltrow, succumbed to oral cancer in 2002, actress Blythe Danner made it her mission to help save other families from the heartache she and her children (Jake and Gwyneth Paltrow) suffered with his loss. Now active with the Oral Cancer Foundation, Blythe uses her fame to bring awareness to the disease, which she says she and her family knew very little about before Bruce received his diagnosis.
In an interview with People magazine, Blythe said she believes her husband's cancer could have been detected earlier if the family had been alert to the symptoms.
"For months I had noticed Bruce's voice was hoarse," she said. "I started asking him to see a doctor. But he kept saying, 'No, no, no, I'm fine.' "
When a lump became visible in his neck, he did go to the doctor and found he had a tumor in his throat. The cancer eventually spread to his lymph nodes. Compounding Blythe's sadness is the feeling that she might have been able to do something to prevent her husband's death.
"I feel tremendously guilty," she told the magazine, noting that she wishes she had simply insisted her husband get himself checked out. "Education and early detection are so important," she said of her campaign to raise awareness. "That's why I'm doing this."
Though Bruce Paltrow was a smoker, it's important to note that young, non-smokers comprise the fastest-growing segment of the population being diagnosed with the disease. That's because a sexually transmitted virus known as HPV16 is now a major cause of oral cancer.
Oral cancer screenings are yet another good reason to make regular semi-annual visits to the dentist. We have the training to notice oral abnormalities, and to monitor and/or biopsy any suspicious lesions. At your oral cancer screening, we will feel your neck for lumps and inspect your lips and all inside surfaces of the mouth, including the back of your throat.
Of course, if you or a loved one experience persistent hoarseness, white or red patches or other changes in your mouth or tongue that don't go away in a few weeks, please don't hesitate to come in and see us.
If you have any concerns about oral cancer, please contact us or schedule an appointment for a consultation. You can learn more about the disease in the Dear Doctor magazine article "Oral Cancer."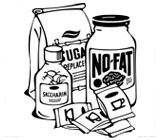 If you're watching your weight or living with diabetes, you probably know the advantages of satisfying your sweet tooth with sugar substitutes rather than the real deal. Did you know that sugar substitutes can also help reduce your risk for tooth decay? One particular sugar stand-in, xylitol, might actually promote oral health!
Sugar substitutes are food additives that mimic the taste of sugar but supply little to no food energy (nutrition) and therefore zero or few calories. This is because they generally cannot be digested and absorbed by the body. They pass through largely unused and have little to no effect on blood sugar levels. Oral bacteria aren't able to process sugar substitutes either. They get significant nutrition from "real" sugars that pass through the mouth — generating tooth-eroding, cavity-promoting acids in the digestive process. A diet of artificial sweeteners eliminates or significantly curtails the acidity problem and essentially starves the "bad" bacteria so more tooth-friendly bacteria can crowd them out.
The Food and Drug Administration (FDA) has approved 6 artificial sweeteners (synthetically produced zero-calorie sugar substitutes) for use in the U.S.:
Acesulfame K — Sunett®, Sweet One®
Aspartame — Equal, NutraSweet
Neotame — a modified form of aspartame
Saccharin — Sweet'N Low, Sugar Twin
Sucralose — Splenda
Rebaudioside A — Truvia, Sun Crystals, Stevia in the Raw
There also are naturally occurring low-calorie sugar alcohols (polyols), used alone or in combination with an artificial sweetener. They are incompletely digested and absorbed slowly so the amount of calories they generate is minimal. Commonly used polyols include erythritol, maltitol, mannitol, sorbitol and xylitol. Research suggests that xylitol may help prevent tooth decay and promote oral health by reducing levels of the major acid-producing bacteria in the mouth, Streptococcus mutans.
Despite their virtues, there is debate regarding the safety of sugar substitutes — synthetic ones in particular. Currently the focus is on how they may affect taste perception, metabolism, and eating habits. From a dental perspective, however, the overall benefits for using xylitol are pretty clear!
If you would like more information about nutrition and oral health, please contact us or schedule an appointment for a consultation. You can also learn more about this topic by reading the Dear Doctor magazine article "Artificial Sweeteners."