Posts for: December, 2013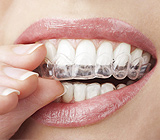 Metal braces for correcting teeth alignment have long been a fixture of adolescence. But although they're effective, they tend to put a crimp on a teenager's life with changes in diet and irritation and discomfort from the devices and regular adjustments. For many teens, though, these are minor compared to the change in their appearance that comes with traditional braces, and the embarrassment they may feel.
In recent years, there's been a growing use of another orthodontic device that reduces many of these inconveniences, especially regarding appearance. Known as the clear aligner, this transparent, "almost invisible" device can be taken out for eating, cleaning or important social events.
Clear aligners are a sequential set of clear trays made of polyurethane plastic that are generated for an individual patient using information derived from x-rays, photographs or models. Each tray in the sequence is slightly different from the previous one to account for the tooth movement achieved wearing the previous tray. The patient will wear a tray for about two weeks and then, if all looks well, move to the next tray. This process continues until the teeth arrive at the proper alignment, a period of about six to twenty-four months depending on the patient's initial condition and their progress.
Up until recently, aligners were a viable option for a limited category of patients, mainly adults. Recent advances have changed that. Aligners now include tiny "power ridges" that enable them to move teeth in more than one plane, something previous versions were unable to do. "Eruption tabs" can also be incorporated into aligner sets to hold the space for permanent teeth that haven't erupted yet — a must for many younger patients. We can also temporarily bond attachments to the teeth known as buttons (made with a composite that blends in with the natural tooth color) that give more leverage and stability to the aligner.
With these changes, clear aligners are now an effective choice for a wider group of patients, including many teens. Aligners are comfortable to wear, easy to care for, and for teens acutely conscious of their appearance, less obtrusive than traditional metal braces.
If you would like more information on clear aligners, please contact us or schedule an appointment for a consultation. You can also learn more about this topic by reading the Dear Doctor magazine article "Clear Aligners for Teens."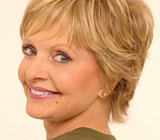 Life lessons are learned in the most surprising places. This is no different for celebrities. Take, for example, Florence Henderson, an actress, singer, philanthropist, author and star of the hit television series, The Brady Bunch. As she told Dear Doctor magazine, her experience with having four impacted wisdom teeth removed — at the same time — "...only made me more aware of how important dental care is." She continued, "This is why I have always gone every six months for a check up."
Another important lesson we want to share is the fact that even if your impacted third molars (wisdom teeth) are not bothering you or causing any pain, you may still need to have them removed.
Why? Having a tooth submerged below the gum, pressing on the roots of other teeth is problematic; the tooth should be removed so that you can avoid major dental problems before they occur. For example, it is not uncommon for us to find an impacted third molar pressing against the roots of the adjacent second molar. Furthermore, because the enamel crown of this impacted tooth is trapped below the gum, we sometimes find an infection, gum disease or even cyst formation occurring.
Often, the best time to remove a wisdom tooth is when it is not causing any problems. This is because a painful wisdom tooth or pain in the area of the wisdom tooth may be a sign that significant damage has occurred or is occurring. It is also better to remove wisdom teeth when you are young, as young healthy people with no prior infections at the site provide the best opportunity for us to remove the tooth with no complications.
To learn more about impacted wisdom teeth, continue reading the Dear Doctor magazine article "Removing Wisdom Teeth." Or if you suspect or already know that you have an impacted wisdom tooth, contact us today to schedule an appointment so that we can conduct a thorough examination that includes x-rays. During this private consultation, we will also address any questions you have as well as your treatment options. And if you want to read the entire article on Florence Henderson, continue reading "Florence Henderson."